Linked up with Casey here: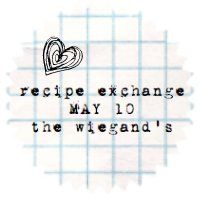 When I was in college and my friends and I were all still living in dorms and had to eat in the caf, we tried to have family dinners
(cooking real food)
together every month. When it was my turn, I decided to make my favorite family recipe:
Tater tot casserole
.
And
geez
! it sure was a hit!
Now I am
not
tooting my own horn- we were forced to have meal plans for the caf and let me just say that the food got a little old after awhile.
Four-types-of-potato-entree night, anyone? No? Yeah, I thought so. Thus, we

looved

having homemade things.
A few of my friends didn't really know how to cook, and a few were also somewhat picky.
And for the one who was
very
picky, well, ......she loved it.
And she would request I make it if we ever cooked together after that :)
Whenever my mom made a few
classics
, she
never
failed to deliver.
And whenever she made
Tater Tot Casserole
, we fought over the leftovers.
Yes, that's right.
By the time we were in junior high, my sisters and I knew how to make our family favorites. Thus, I knew how to cook
a lot more
than most of my friends in highschool and college.
Thus, the friend in college who didn't know how to cook
hardly at all
, was
uh-mazed
that we knew how to make our favorite things. And
very awesome
comfort food, at that!
found in here
via my grandma Opal Wilkinson












Cooking Time
: approx. 1.5 hours
Serves
: makes one large pyrex casserole dish
feeds
: a family of 5 (+ some leftovers) / 5 starving college students (+ hardly any leftovers : )
Ingredients
:
1 lb. ground beef
1 medium-sized chopped onion
1 (16 oz.) can green beans
(sometimes 1.5 cans)
1 can cream of chicken soup (by all means, get the reduced sodium!)
1 can evap. milk
1 pkg. frozen tater tots
(Foodmax calls them tater puffs. whatev.)

Directions:


1.

Brown

ground beef + chopped onion + salt & pepper. --

Drain fat

--
2
.

Preheat

oven to 350 degrees.

3.
Spread
meat + onion in 9x13 in. casserole dish.


4.
Spread
layer of green beans on top of meat.


5.
Layer
tater tots on top. (You can squeeze more in with rows.)

6.
Whisk
together soup + evap. milk and
pour
on top of tater tots.
You might not need all of the soup mixture
otherwise it may cook unevenly like in the bottom center of this pic.
7.
Bake
at 350 degrees for 1 hour + 15 minutes or until tater tots are brown and crispy.

Let sit
for
at least
10 minutes. (It will be HOT! and bubbly : )
*
Note: the tater tots are really hot, so it might be a good idea to smash them a bit for little ones.
*
Note: this is basically a more kid-friendly (tater tots) shepherd's pie recipe. Plus it doesn't have the strange texture of creamy mashed potatoes + chunky vegetable/meat.


*
Also note: this is
by
no means
a healthy recipe. Although, it is redeemed if served with some hearty/whole vegetables. When I made this last time, I served it with steamed crook-neck squash & a spinach/tomato salad with dressing
I made from scratch
. Just like I would have had it as a little kid, and it was
YUMMY
and
much
more balanced : )